---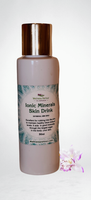 This is a topical mineral drink for the skin. Rub it into the chest, abdomen, limbs, neck and back to aid immunity and maintain good overall health. 
It is a luxurious gel finish that quickly absorbs into the skin.
This product is gentle enough for sensitive, eczema and other skin conditions. 
This product is external use only.