---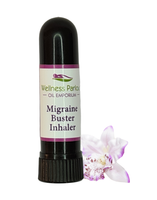 EFFECTS – Using this inhaler makes the vapors travel straight up the nostrils into the main brain center where migraines occur. The relief will be speedy. Helps to give instant headache relief, decongests the sinus, and aids focus.
USEFUL FOR – Headaches and migraines, blocked sinus and focus. 
Ingredients: Peppermint Piperita, Melissa, Ylang-ylang, clove oil.
Use: Insert at the nasal entrance and inhale deeply. Do this for each nostril. Use this product as and when needed.
Use as often as required.