---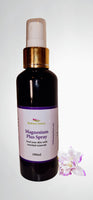 AMOUNT – 150ml
EFFECTS – speeds up healing, adds nutrients into the body, easily absorbed into the body.Helps to improves joint health, feeds the skin with magnesium, excellent for aiding skin repair and skin conditions. 
USEFUL FOR – quickly adding nutrients to the body, can be used at night sprayed over the whole abdomen to nourish organs, spray on sprains, painful areas and anywhere else on the body that is in need of nourishment.
Ingredients: Purified water, 90% Magnesium Hex flakes, 10% other minerals.
Use: Use at night. Spray on joints, any painful areas, can also be sprayed on the chest and arms to feed the body with magnesium while you sleep.
Use in any other way you desire. 
Avoid eyes and mouth and internal ingestion.