---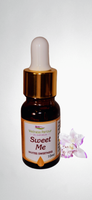 Amount - 10ml dropper bottle
Feel - Oil 
Useful for - adding an aura of sweetness back into your personal space and life. The blend of violets and rose varieties help to melt self judgement and open the door for adding sweetness to your mood hence enhancing your day to day experience and sweetening your emotions and outlook on life.
Ingredients - Violet essential oil blend and rose essential oil blends 
If you are suffering from lots of emotional heaviness, constant negative moods and experiences, this product is for you.